Apartments, penthouses, duplexes … The new and modern building is very practical, but when you are looking for something more charming, we have other interesting options. How would you like to live in a farmhouse?
The origin of the Masías comes from Roman ages.
These located their Roman villas in these charming villages of Maresme that later were called "Mas" or "Masías". These were "country houses" to cultivate and raise livestock, with orchards, forests … they are surrounded by natural environments and also by splendid views!
For many of us, these Masias evoke memories of our childhood, for others it is a dream to escape of the busy life and bustle of the city. In any case looking for a quiet lifestyle!
Many are the investment businessman who are looking for rustic houses and farmhouses to buy to turn them into charming homes, houses for rent or even rural businesses, such as hotels that attract the attention of tourists in search of experiences in full contact with nature.
The farmhouses that we find in Maresme, are a mixture of modernity that combine all kind of luxury details  but always keeping their old aesthetics, showing us the old centuries way of life.
TODAY WE INVITE YOU TO VISIT FARMHOUSES FOR SALE IN THE MARESME
C-137
850.000 €
We start our route with this manor house, Catalan farmhouse style for sale in Premià de Dalt, built in 1590, on flat plot of 1,600 m2 Living surface built 1,000 m2, distributed in ground floor and first floor.
It maintains original features such as the ceilings built in the typical construction Catalan Vault, beamed ceilings, terrazzo floors, etc …
Fantastic garden with different types of areas, plus an orchard. Located in the center of the town of Premia de Dalt, on the Maresme Coast, different amenities, shops and schools and only 30 minutes from Barcelona and 5 minutes from the beach.
Historic farmhouse for sale. Tiana
C-1029
2.200.000 €
Enjoy your home, an oasis where spend your time feeling that you live surrounded by nature, a dream in this historic rustic farmhouse dating from the 18th century, completely renovated, practical, current and located just a short walk from the center of the beautiful town of Tiana and only 15 minutes by car to the center of Barcelona, with a constructed area of 846 m² and a total of 11 hectares of arable land.
The farm has space to create a magnificent garden with sea views and swimming pool (old irrigation pond), it also has several private wells and a water mine for irrigation. At the back we find a cover for several cars and a separate laundry room.
Masia Eco-Chic style
C-498
1.590.000 €
If the previous one does not quite fit in with your project, maybe you should see this beautiful one now this beautiful farmhouse renovated for sale is located in the quiet and beautiful village of Dosrius, close to amenities that are opened throughout the year.
The Masía dates from the seventeenth century and was completely restored 10 years ago, using fine high-quality materials, sustainable eco, smart finishes and latest technology.
The property over more than 13 hectares, composed by three independent buildings, has three rainwater collection tanks, two water wells, solar panels, radial heating, wifi, motorized blinds, bioclimatic biomass energy, (Highest energy rating "A") terracotta floors. Storage room, warehouse, or service room. The perfect location near town allows the different use, bed & breakfast, equestrian center, holiday rental …
Masía rustic in Mataró XVII-XVIII centuries
C-88
1.295.000 €
Thinking of opening a rural business? We present this dream farmhouse that could be the perfect place for your rural business, thanks to being located in Mataró, the capital of Maresme.
A Farmhouse house,  in a square floor from the Baroque period (XVII-XVIII centuries), a deep and exquisite restoration in 2006.
The reconstruction has recovered sgraffito and a sundial which, together with baroque cornices on the facade, they give a lot of personality to the whole house. The property has plenty of amenities such as an elevator that reaches all three floors. Each floor has large rooms, some of them have fireplaces.
This Masía is surrounded by gardens, swimming pool, and irrigated fields that have as a backdrop the characteristic profile of the Maresme mountains.
restored farmhouse with views, Cabrera
C-1171
7.800.000 €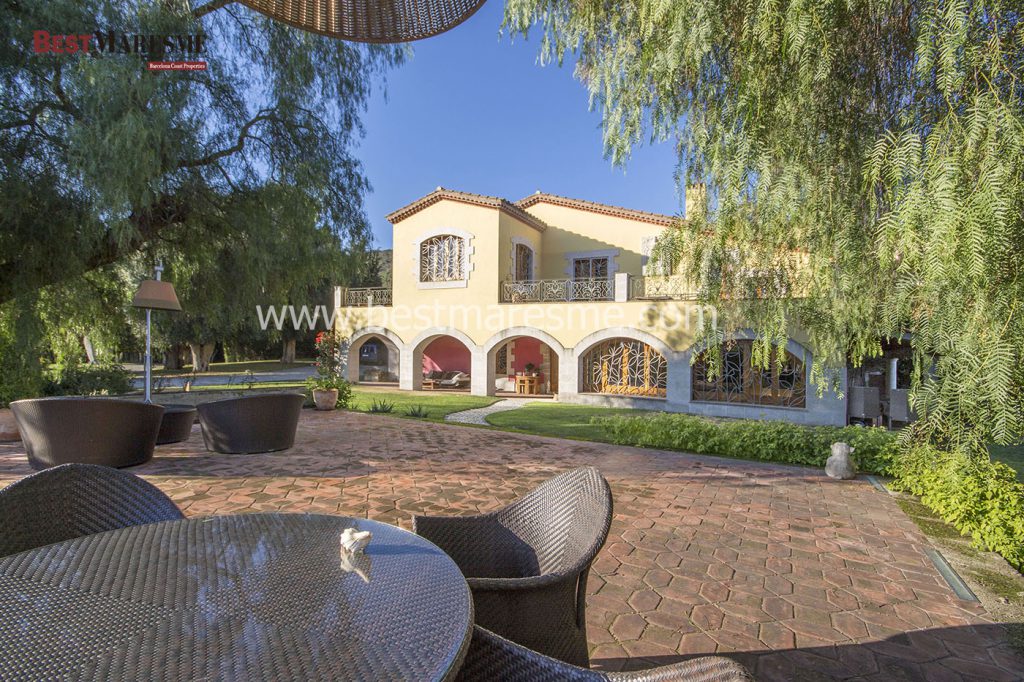 Located in a very quiet area, surrounded by nature and with great views of the Mediterranean.
The property is made up of a beautiful country house, completely restored, with a very practical distribution, large spaces with natural light in all its rooms and several annexed buildings, a guest house and housing for maintenance personnel, all of which comprise 858 m² built.
All floors of the main house are connected by an elegant staircase and elevator.
At BestMaresme we have a great offer in the most exclusive areas of the Maresme. We are experts in luxury properties in towns such as Cabrils, Premia de Dalt, Vilassar de Dalt or Llavaneres. Are you looking for a luxury house to buy or rent in the Costa de Barcelona? Visit us or contact us.