The Maresme a region that we can enjoy with five senses. By vision sense the marine and mountainous landscapes delight us. With the hearing sense we perceive the sound of sea and the silence of the natural spaces. With smell sense the sea breeze and the flowers fragrances. With the touch sense we perceive the textures of each of the 1001 landscapes. And, finally, with the taste sense we enjoy the great and quality of the gastronomic products that are produced in this region.
It is not a secret that the Maresme gastronomy it's a pleasant. it is sea products and its fresh products, there are a great offer to choose from. Choose from the markets in  Maresme municipal lies or in the many gastronomic fairs that are organized throughout the year. Highlight the good restaurants that offer local products. The climate, the land, the sea and especially the people, promote the economic activity in Maresme.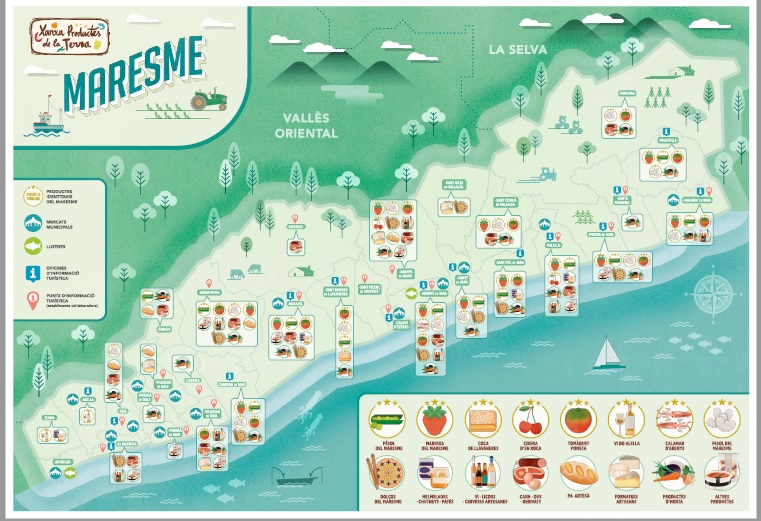 A good way to know the Maresme gastronomy is check the map "Vine i Assaboreix el Maresme!". This map shows us the products and who produce them "the Xarxa de productes de la Terra del Maresme".
The specials Maresme products are those that, due to their character, tradition and quality, have unique characteristics that are deeply rooted in the territory as they are unique varieties that are only produced and made in the Maresme. Let's see what they are.
¿Are you looking for a luxury house in Barcelona area?
At BestMaresme we have a great offer in the most exclusive areas of the Maresme. We are experts in luxury properties in towns such as Cabrils, Premia de Dalt, Vilassar de Dalt or Llavaneres. Are you looking for a luxury house to buy or rent in the Costa de Barcelona? Visit us or contact us.
Main gastronomic Maresme products
The pea. The green pearl, one of the jewels of Maresme.
The strawberry. The strawberry that grows in Maresme is very tasty and with an intense color and flavor, and a meaty texture.
Coca de Llavaneres. It is a delicious puff pastry coca filled with cream and covered with pine nuts and sugar.
Cherry d 'en Roca. In Arenys de Munt this sweet and sour heart-shaped cherry is produced.
Pometa Tomato. A very tasty and high quality tomato.
DO Alella wine. The Maresme vineyards produce a white wine whose DO is the oldest in Catalonia and the smallest in region extension.
Squids from Arenys. A squid rich in iodine, calcium and phosphorous that is fished at night.
Maresme beans. It is a hook-shaped bean (ganxet beans) with a smooth taste.
Other products not to be forgotten ares sweets, jams, pâtés, eggs, homemade bread, artisan cheeses and vegetables garden products.