Maresme is consolidated as a destination for family tourism also often means traveling with your pet.
Visit and do activities with pets is possible, since Maresme region has Pet Friendly spaces and services, accommodation, restaurants, shops, beaches and much more.
The coastal municipalities have great beaches and promenades where you will enjoy the breeze with a walk along the sea and have a bath with your pet.
If you prefer mountains, we remind you that the Maresme lives between sea and munt, offering great natural spaces.
Beaches Pet Friendly
ARENYS DE MAR. Playa del Cavaió
Arenys de Mar also has a space in Playa del Cavaió (on the border with Canet de Mar) enabled for dogs. In this way the animals will be able to access during the entire bathing season, from June 1 to September 16, without having to resort to the restricted hours of the rest of the beaches, from 8 in the afternoon to 8 in the morning.
In other beaches, all dogs can access throughout the year, except in summer. Between June and September, the hours for dogs are from 8:00 p.m. to 8:00 a.m.
SANT VICENÇ DE MONTALT. Frente al restaurante La Caleta
It is the beach in front of the La Caleta restaurant, before the entrance to Port Balís, Sant Vicenç de Montalt. To park we have a blue zone and if we want to get there by train we can get there with the Renfe line C21.
PINEDA DE MAR. 
Beach area between C / Marina and C / Tarongers, located between the beaches of Poblenou and La Riera between two campsites.
This dog beach is closed and very well signposted, with an area of ​​about 100 square meters, perfect for recreation and well-being of animals and users.
It can be accessed 365 days, with no time restrictions and free access to everyone.
Beach rules:
Obligatory to collect the excrement of the dogs and throw them in the bins. If necessary, pour water where they have urinated.
Dogs can only access the delimited area (sand and water) of this beach.
Dogs cannot use the showers on the beaches.
Animals must have identification with a microchip.
The animals have to wear an identification plate or any other means adapted to the animal's collar where their name and the owner's telephone number appear.
Bring an appropriate muzzle.
To be tied by means of a necklace and a chain or strap that is not extensible and of less than two meters in length.
Animals cannot be carried by children under 16 years of age.
You cannot take more than one potentially dangerous dog per person.
EL MASNOU 
This area for dogs goes from Can Teixidor to Montgat, has a length of about 400 meters and a total area of ​​between 1,600 and 5,000 m2, depending on the season.
Beach rules
It is mandatory to be in possession of the civic possession card and be responsible for the companion animals so that the dog can be unleashed.
Keep the space clean and use it civically
Collect excrement in closed bags to avoid bad odors.
Clean the urine by diluting with water.
Keep your dog under surveillance at all times and avoid fights between dogs.
It is forbidden to wash dogs with soap in public showers.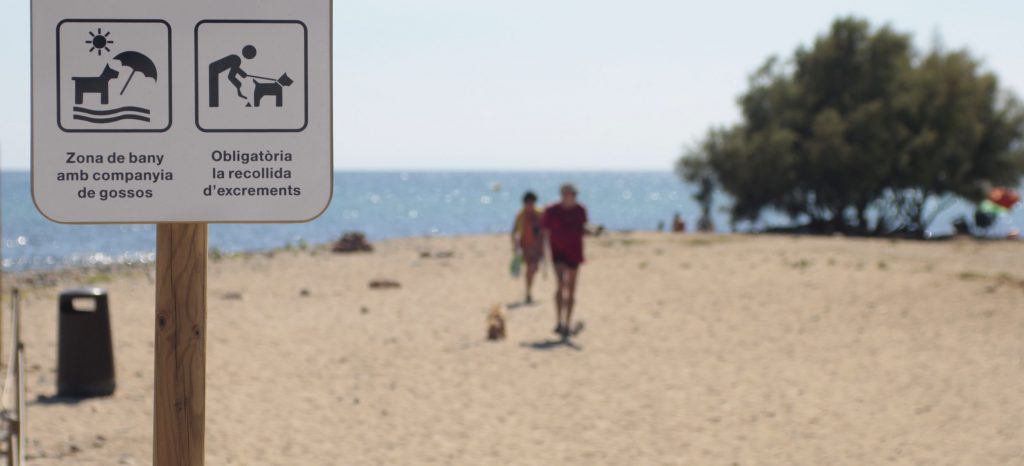 MATARÓ. Playa de Poniente
The City Council is committed this year to enable a space for citizens with dogs in a part of Poniente beach. According to the Mataró town hall, it is expected that the space for citizens with dogs will operate from the beginning-mid-July to September 30 from 10 a.m. to 7 p.m., and will be delimited and closed perimeter by the City Council.
Restrictive beaches
MONTGAT
From June 1rst till September 31rst.
MASNOU
From April 1rst till September 30th.
PREMIÀ DE MAR
From April 1rst till November 4th.
CABRERA DE MAR
From May 1rts till September 30th.
SANT ANDREU DE LLAVANERES
From April 1rst till October 31rst.