Its name it is surely not the most accurate, but El Plat de Mataró, define perfectly the Maresme gastronomy: proximity, local and seasonal products. Until May 1rst, and coinciding with the Temps de Pésols, 12 restaurants in the capital of Maresme organize the 25th edition of El Plat de Mataró gastronomic days, whose main ingredients are cuttlefish, Maresme peas and potatoes from Mataró.
The restaurants that participate in this gastronomic days of El Plat are: Auto d'Ara, Caminetto, Can Bruguera, El Mundial, Europa, L'Harmonia, Iluro, Punt 6, Nou Daxana, Nuus Hotel Atenea and Som Terra.
A short history of El Plat de Mataró
In 1997 the city council of Mataró commissioned to the chef Josep M. Martín i Amargant, at that time president of the Gremi d'Hostaleria del Maresme, to search or create a dish that would identify the city. Aware of the few references to traditional dishes typical of Mataró, Josep M. Martín proposed a traditional cuisine dish that was highly representative of Maresme region.
Thus was born the Plat, with ingredients as peas, cuttlefish and potatoes. A dish that perfectly captures the essence of the region based on the quality of the products that make it up: fried, stewed and minced with products from the land and the sea.
Based on this proposal, El Plat, which was given its name, began to promote itself with competitions, samples, tastings, markets, TV, radio and presentations in emblematic places such as the Palau Robert in Barcelona, San Sebastián or Bilbao. And so to this day, when the Plat is a consolidated tradition.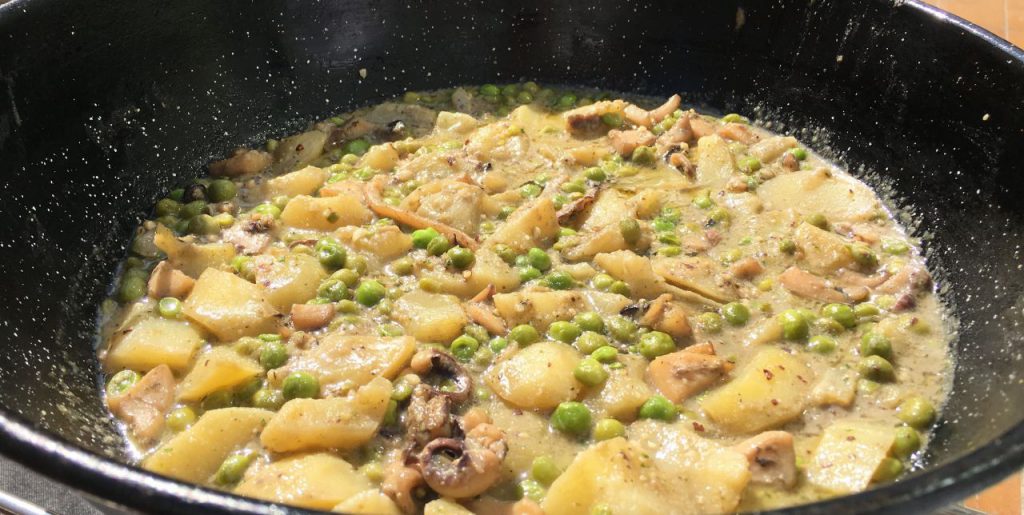 Recipe of El Plat de Mataró
Ingredients:
A cuttlefish of 500 grams
½ kilo of Floreta peas
3 spring onions
2 tender garlic
1 glass of white wine from Alella
1 small glass of virgin olive oil
½ liter of sugar water
300 grams of Maresme potatoes
Salt
Base Ingredients:
50 grams of almonds and hazelnuts
1 nora
1 grain of garlic and parsley
Elaboration:
Cold, pour the olive oil and the cuttlefish cut into pieces into a saucepan. When the water from the cuttlefish has been consumed, add the onions and spring garlic. Once done we water it with the white wine. We let it shrink. Add the peas and potatoes and salt to taste. Then add the sugar water. When the cuttlefish is tender, add the minced meat.
The base:
In a mortar, chop the almonds, the hazelnuts, the ñora (which we will have previously blanched), the garlic and the parsley. We undo it with a little water.
At BestMaresme we have a great offer in the most exclusive areas of the Maresme. We are experts in luxury properties in towns such as Cabrils, Premia de Dalt, Vilassar de Dalt or Llavaneres. Are you looking for a luxury house to buy or rent in the Costa de Barcelona? Visit us or contact us.