Who looks Maresme Map could realize that it is unique for many and different reasons. It is an elongated region lapped by the Mediterranean to the east, with limit more than half of its 30 municipalities, specifically 16. And to the west it is framed by the Pre-coastal mountains, after which is the region of Vallès Oriental.
In the north, the Maresme region begins at the Tordera river, and in the south in Montgat. Just on the other side of the Tordera river is Blanes (La Selva region), a town where the Costa Brava begins. On the southern border with Barcelonés region.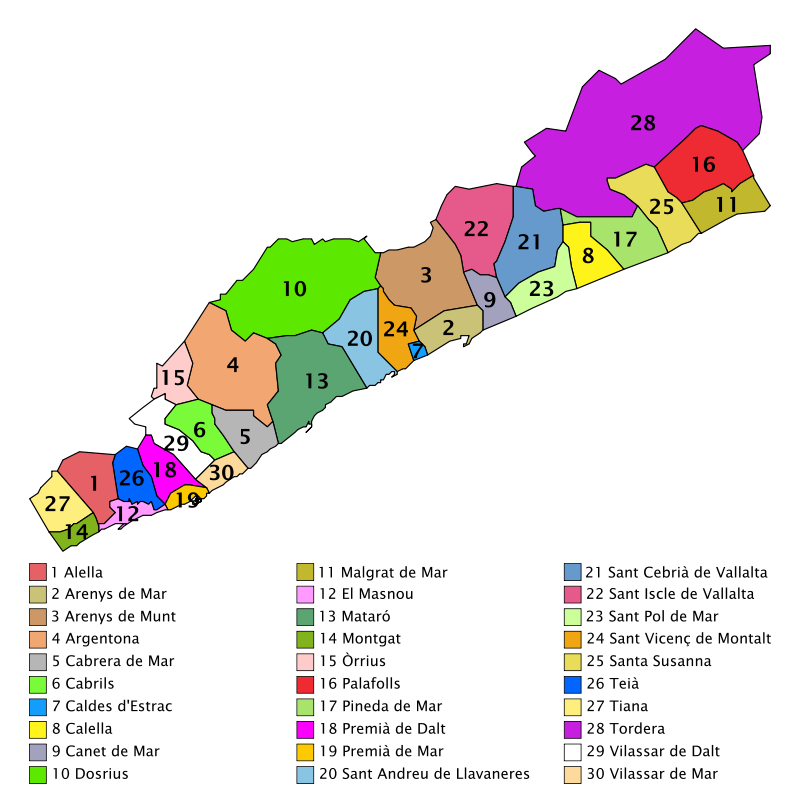 In short, the Maresme is a privileged region. Close to Barcelona and the Costa Brava, the sea provides a mild climate all year round and the mountains a unique nature surround. For centuries this region has welcomed peoples who have settled in it. The result is a region full of archaeological sites (Iberian, Roman, medieval …), a great architectural legate (highlight its modernist buildings), first quality agricultural products, and an extraordinary gastronomy. Highlights fish, shellfish and Alella wine.
¿Are you looking for a luxury house in Barcelona area?
At BestMaresme we have a great offer in the most exclusive areas of the Maresme. We are experts in luxury properties in towns such as Cabrils, Premia de Dalt, Vilassar de Dalt or Llavaneres. Are you looking for a luxury house to buy or rent in the Costa de Barcelona? Visit us or contact us.
A good way to get to know and enjoy Maresme, is have a walk the path that runs along the sea. If we start from the south, in Montgat, we will pass through: El Masnou, Premià de Mar, Vilassar de Mar, Cabrera de Mar, Mataró, Sant Andreu de Llavaneres, Sant Vicenç de Montalt, Caldes d'Estrac, Arenys de Mar , Canet de Mar, Sant Pol de Mar, Calella, Pineda de Mar, Santa Susanna and Malgrat de Mar.
We can also walk along the mountain roads and make stops in the non-coastal towns. In the south we would start with Tiana, and continue through Alella, Teià, Premià de Dalt, Vilassar de Dalt, Cabrils, Òrrius, Argentona, Dosrius, Arenys de Munt, Sant Iscle de Vallalta, Sant Cebrià de Vallalta, Tordera until we reach Palafolls.