When the internationally known and renowned restaurateur Carme Ruscalleda closed her three-star restaurant Sant Pau in Sant Pol de Mar, Maresme, Catalonia and the world lost a first-rate gastronomic reference. Now, and as reported Cristina Jolonch in La Vanguardia on March 17th, Ruscalleda's son, Raül Balam Ruscalleda and his partner Murillo Alves Rodrigues, will reopen it the first week of June with the name of Cuina Sant Pau.
This is an extraordinary new for Maresme region and for all three-star food lovers. Four years after its closure, and although his parents offered him and his sister Mercè, taking over the business has not been decided until now.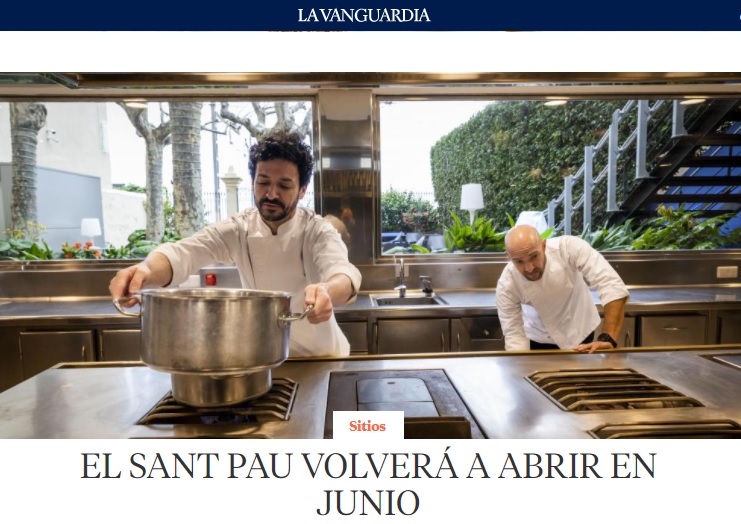 Mercè opened with her partner, Albert Rovira, El Jardí del Sant Pau, a bar with good sandwiches that works successfully in the parking lot and the garden of Sant Pau. The brothers have already said that there will be synergies between the two places, for example making an appetizer before eating or having coffee after.
At BestMaresme we have a great offer in the most exclusive areas of the Maresme. We are experts in luxury properties in towns such as Cabrils, Premia de Dalt, Vilassar de Dalt or Llavaneres. Are you looking for a luxury house to buy or rent in the Costa de Barcelona? Visit us or contact us.
In the new restaurant offers dishes to share and seasonal and Maresme products will be the central axis of the kitchen. Among other advances, they have announced that there will be cannelloni, tomato vellut, peas when it's time, but also baos (Asian dish) and many dishes that people can share. At the entrance they will place a blackboard on which they will write down the day's suggestions, such as the recently arrived fish.
At first they will open -always according to information from La Vanguardia- from Thursday to Sunday, and after a month they hope to open every day, until La Mercè, and then from Thursday to Sunday, until La Purísima.