Barraquer Ophthalmological Center publishes every month a free magazine. It is a publication with a careful design, a very careful impression and always interesting writings. Most of its are dedicated to medical topics related to the center's specialty, ophthalmology, and includes interviews with specialists, reports or news about new techniques. However, in the index we also find topics such as food, culture or society.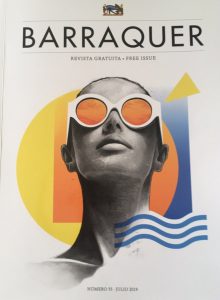 In its July issue, the magazine "Barraquer" includes a report about Maresme coast with beautiful photos. It recommends a kayak route along the coast. A route that begins in the Club Nàutic de Calella and "that will allow you to get closer to the most beautiful coves and beaches in the area or have magnificent views of the imposing lighthouse of the town".
In the report published in the magazine "Barraquer" continue to recommend prominent places in Maresme such as the House-Museum of Domènech and Montaner in Canet de Mar and invite you to discover the modernism properties in this beautiful town.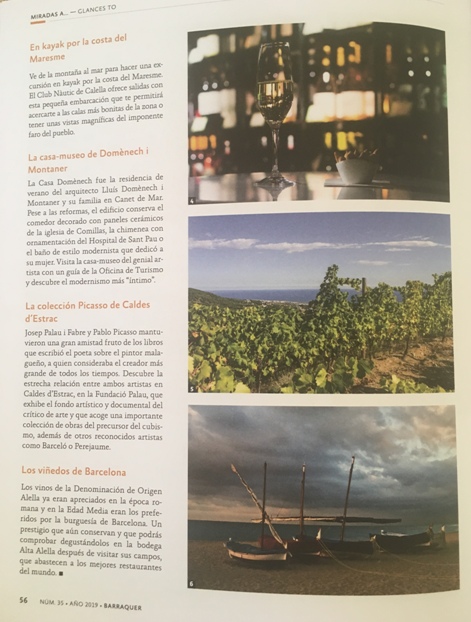 The Picasso collection found at the Fundació Palau de Caldes d'Estrac is another of the appointments that advise you not to get lost. It is not strange that this magazine invites us to visit our region, because the attraction for the art of the Barraquer family is well known. You just have to visit his clinic on Muntaner Street in Barcelona to enjoy the many sculptures and art works that are exhibited in its waiting rooms and in its corridors. As they say in the report "Discover the close relationship between Picasso and Josep Palau i Fabre in its Foundation that exhibits the artistic and documentary background of the art critic and hosts an important collection of works of the precursor of Cubism, in addition to other renowned artists such as Barceló or Perejaume. "
Finally, the magazine "Barraquer" highlight the wines, very important in Maresme Region; "The wines of the Denomination of Origin Alella were already appreciated in Roman times and in the Middle Ages were preferred by the bourgeoisie of Barcelona. A prestige that they still retain and that you can see by tasting them in the Alta Alella winery after visiting their fields, which cater to the best restaurants in the world ". It can be said with capital letters but not much clearer. And it was written in the magazine "Barraquer" like this!
¿Are you looking for a luxury house in Barcelona area?
At BestMaresme we have a great offer in the most exclusive areas of the Maresme. We are experts in luxury properties in towns such as Cabrils, Premia de Dalt, Vilassar de Dalt or Llavaneres. Are you looking for a luxury house to buy or rent in the Costa de Barcelona? Visit us or contact us.