After more than 60 days of confinement, we have realized the needs of our houses, what we like and what we don't like.
It has been a good time to focus our attention on details that were previously overlooked. The confinement has made us value spaces that before, perhaps, we did not give insufficient importance.
Nowadays is a common practice that our first option is buy a house or apartment with terrace. However, investing in land is a unique opportunity, since the construction of your home can be according to your needs.
Buy a plot in Maresme allows you to build the house of your dreams.
In Cabrils between Vilassar de Dalt and Cabrera de Mar, BestMaresme Luxury Real Estate of recognized trust in the Maresme coast, we have the largest portfolio of luxury properties, design houses, paired with communal area, building land to buy in the exclusive urbanizations of "La LLobera" and Montcabrer "among others, as well as in the center of town!
The best selection of luxury homes, exclusive chalets with swimming pools, townhouses, townhouses, land … for purchase, sale or rent in Cabrils and in the best residential areas of the Maresme region, and with the best views!
Plot well connected to amenities! Cabrils
T-15
180.000 €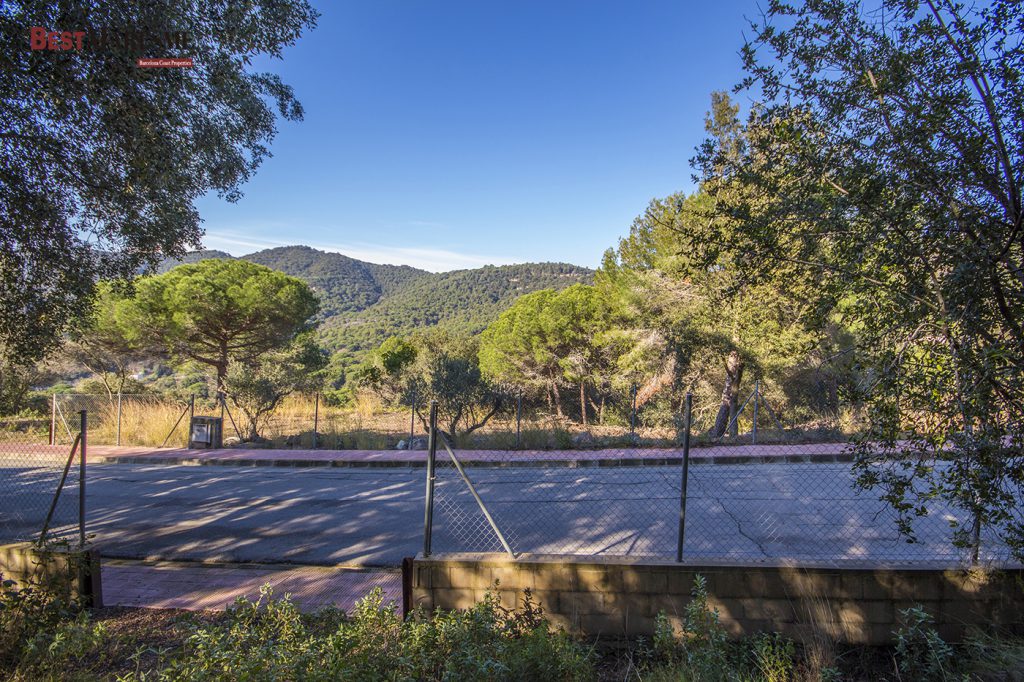 This 614, 54 m² plot for sale is located in the charming village of Cabrils, on the Maresme Coast, only 23 km north of Barcelona.
The plot is located in a quiet mountain environment and is well connected to all amenities and town center located near the residential area.
This plot facing south enjoys breathtaking views of the coastal mountains, a magnificent green spot. It is located in the popular urbanization of La Llobera and offers the possibility of building a single family house on the plot.
Urban parameters: Zone 13 C of the general plan of Cabrils
Min plot area: 500 m2
Minimum facade 15 ml
Buildable: 0.6 m2 / m2
Distances to the street and between neighbors: 6m / 3m / 3m
Number of floors: PB + P1 + Attic
Use: residential
The plot currently has all the services available: water, gas, electricity and sewage and telephone.
Plot in Urbanization, Cabrils
T-40
280.000 €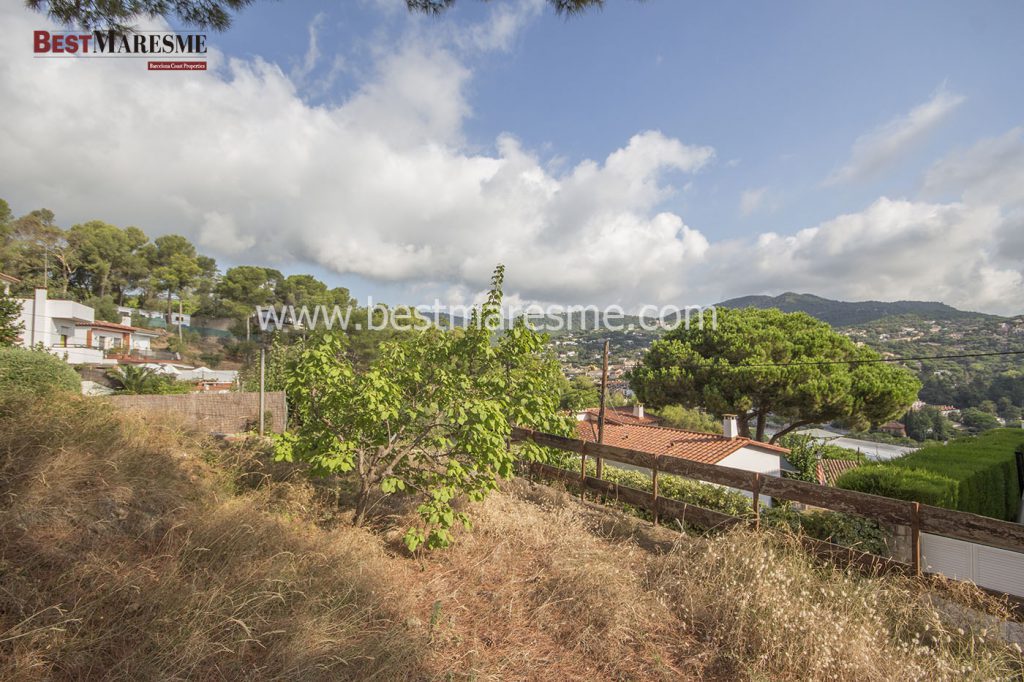 This magnificent plot for sale in Cabrils, is an urban plot, subzone 13 C: garden city, semi-intensive single-family, measures 821.45m2 and offers the possibility of building a house on the ground floor + first floor + attic. (maximum height 6.5 m)
Subzone 13 c:
Buildable area: 0.6 m2 of roof per m2 of plot, maximum occupancy 30%
Minimum solar area: 500 m2
Minimum facade: 15 m, street separation: 6 m, other separations: 3 m,
Uses: Housing, residential
Flat plot with sea views, Cabrils
T-41
320.000 €
Fantastic plot for sale of 1,115m2, located in a residential area of the gastronomic village of Cabrils, on Maresme coast, just over 20 km to Barcelona.
The plot, mostly flat and with a retaining wall already built, faces southwest and has magnificent sea views. 
At BestMaresme we have a great offer in the most exclusive areas of the Maresme. We are experts in luxury properties in towns such as Cabrils, Premia de Dalt, Vilassar de Dalt or Llavaneres. Are you looking for a luxury house to buy or rent in the Costa de Barcelona? Visit us or contact us.
Flat plot in the Serreta de Alella
T-36
Price: 360.000 €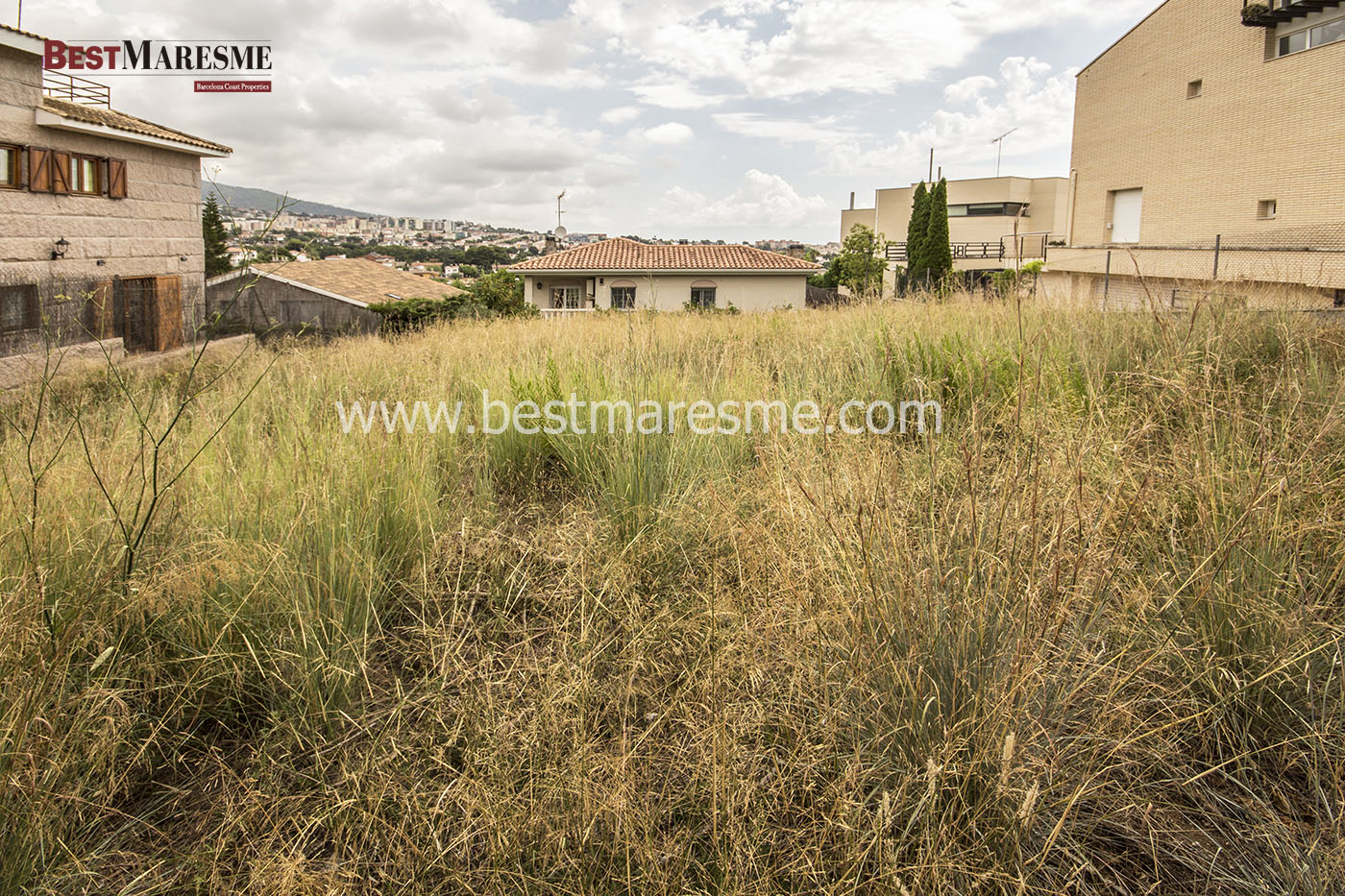 Flat plot of 524 m2 for sale in Alella, La Serreta, a residential area close to shops, schools, services and public transport. 5 min from Masnou beaches.
A ideal place to build a house that allows you to live 20 minutes from Barcelona, with quick access, but away from the stress of the city, with your own garden and possibility of swimming pool.
Views in Sant Viçenç de Montalt center
T-44
Price: 490.000 €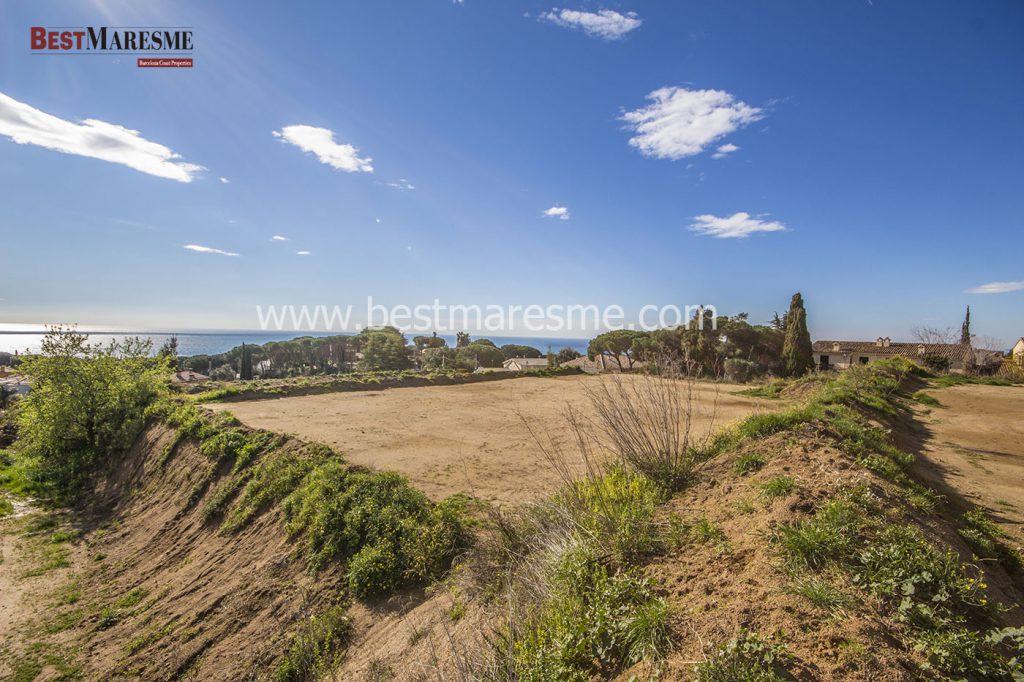 Fantastic plot for sale with magnificent sea views in the center of Sant Viçenç de Montalt, close to all services and with excellent communications to Barcelona.
The plot is completely flat and enjoys an exceptional orientation with magnificent views of the Mediterranean, it is completely urbanized with wide sidewalks, public lighting and has all the necessary water, electricity and gas connections at the foot of it.
Building area of 250 m2 net with a maximum height of 3.50 meters.
30% buildability + 5% auxiliary buildability.
See views- St Vicenç de Montalt
T-29
Price: 289.000 €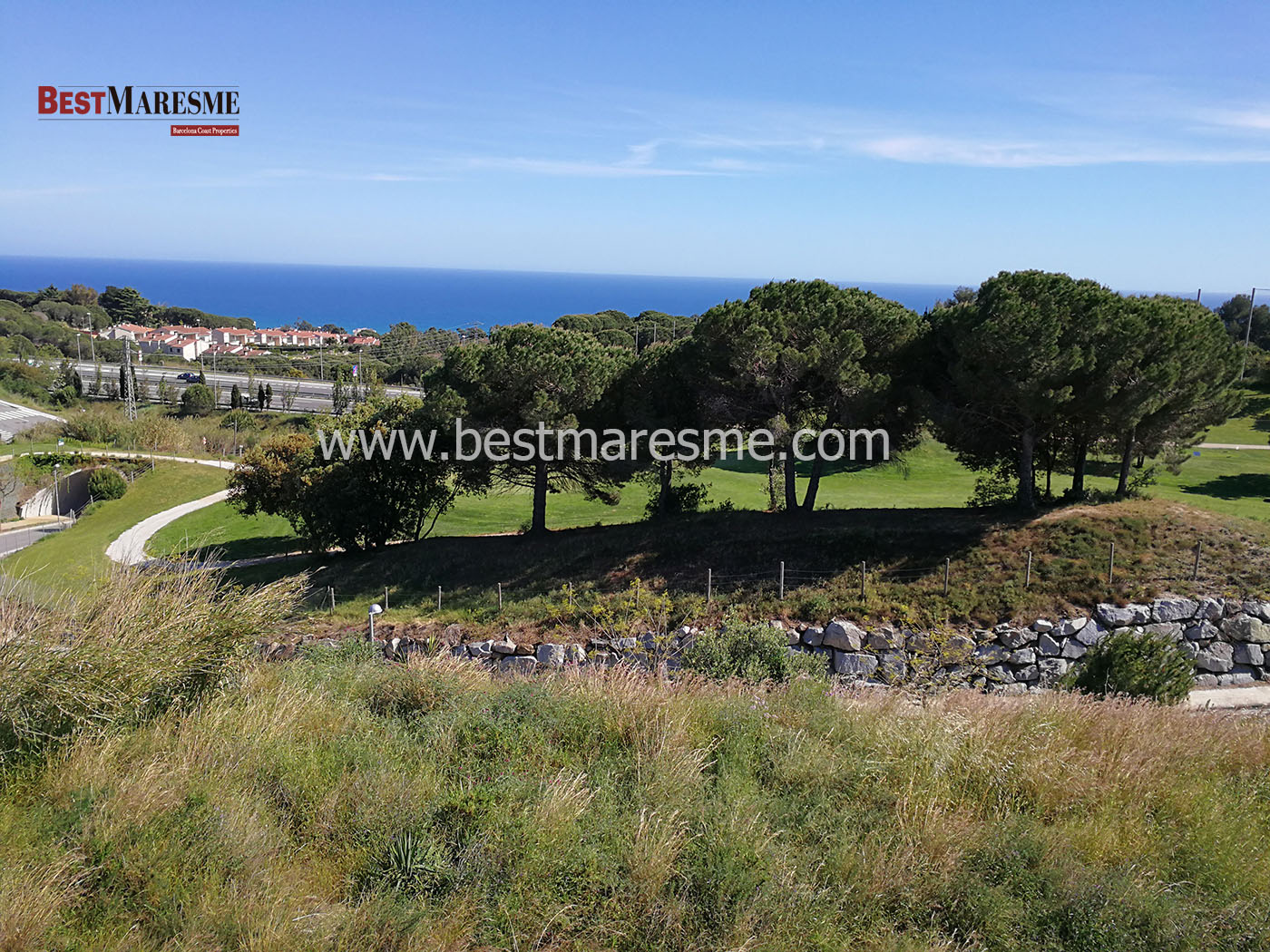 Plot for sale in a privileged environment with spectacular sea and mountains views, in the village of Sant Vicenç de Montalt.
The property has a project for the construction of a house on two floors of about 240 m2. Urban qualification 9b, minimum plot 800 m2, Max. construction 6.50 (PB + Floor), occupation max. 20%, buildable 0.3 each m2 (equivalent to 240 m2 per plot min.) Separation vials 5 m, properties 3 m.
Spectacular Mediterranean views
T-46
Price: 700.000 €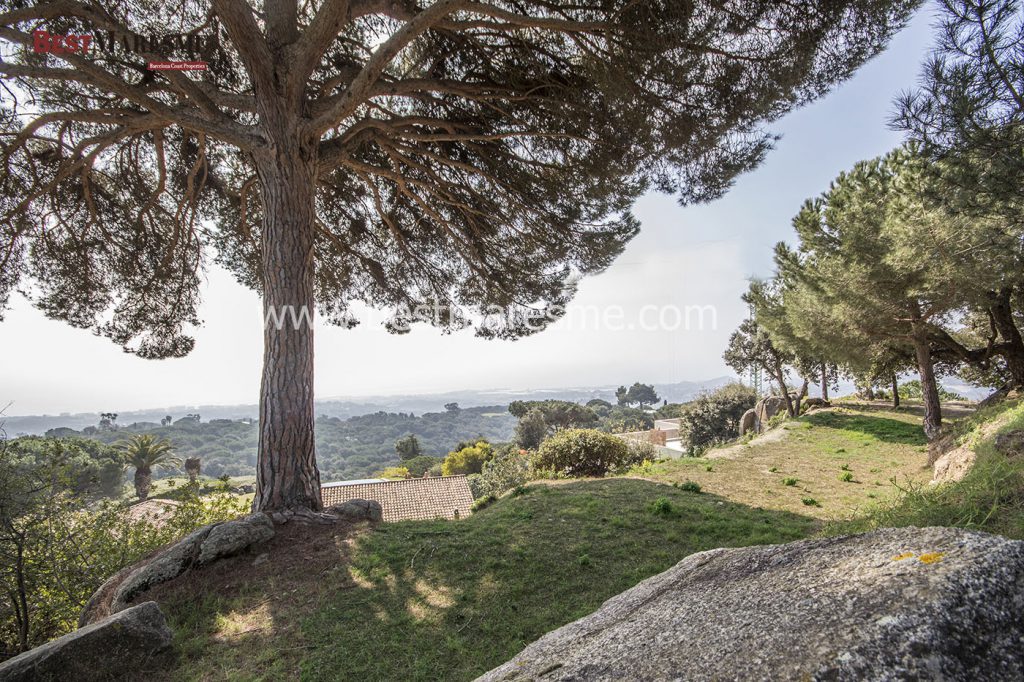 Plot of 2.120 m2 for sale located in one of the best and select urbanizations in the area, Supermaresme urbanization in Sant Andreu de Llavaneras with a basic project approved by the city council and building license, topographic, plans and renders (acquiring the project is optional)
A spectacular project surrounded by nature of 315 m2 of construction and 281 useful on two floors with garage for two vehicles, living room kitchen in a single and bright space without optical barriers, spacious suite, three bedrooms with bathroom, elevator … swimming pool with solarium from which to enjoy the views.
The basic project visa and the building license is included in the price in case of interest.
Plot of 2,223 m2, Llavaneras
T-39
Price: 350.000 €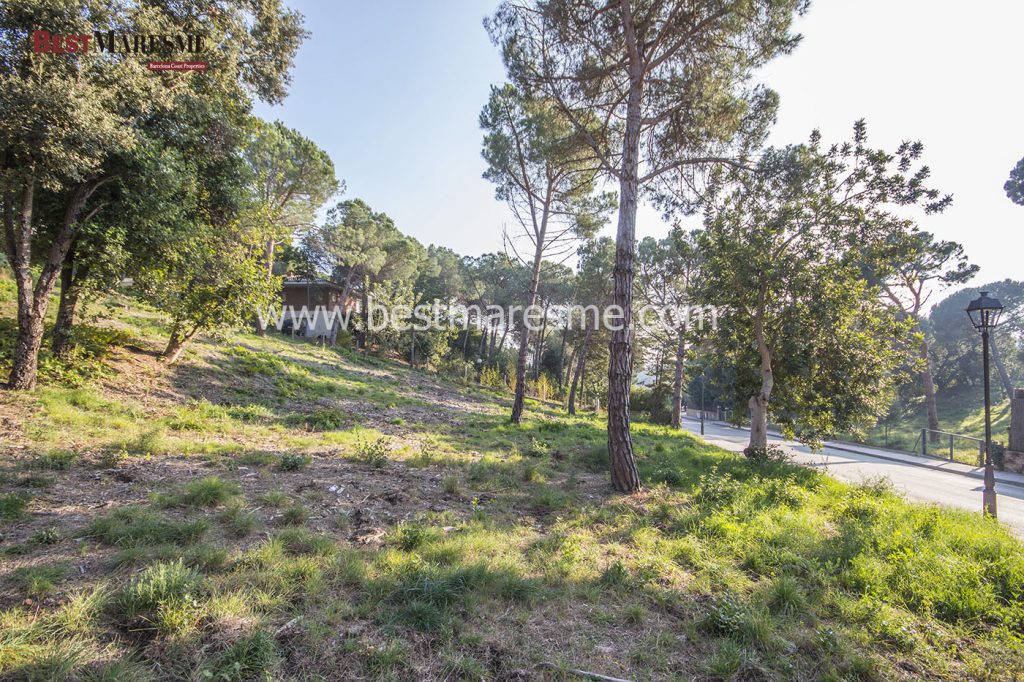 Plot for sale, in the exclusive urbanization of Sant Andreu de Llavaneres, on the Barcelona Coast, unique for its large dimensions of 2,223 m2 and the possibility of building a beautiful house of up to 444 m2 on two floors as well as a basement, (the Urban planning regulations allow the construction of an isolated single-family home (chalet) with a plot occupation of 10% and a buildability of 0.26 m2 per m2 of plot).
A semi-flat plot, with an excellent orientation and surrounded by a pine forests in an urbanized area with paved streets, sidewalks and lighting, water, electricity and gas connections. A possibility to live 30 minutes from Barcelona, enjoying the pleasant climate of Maresme throughout the year.
Flat plot of 580 m2, Premia de Dalt
T-51
Price: 350.000 €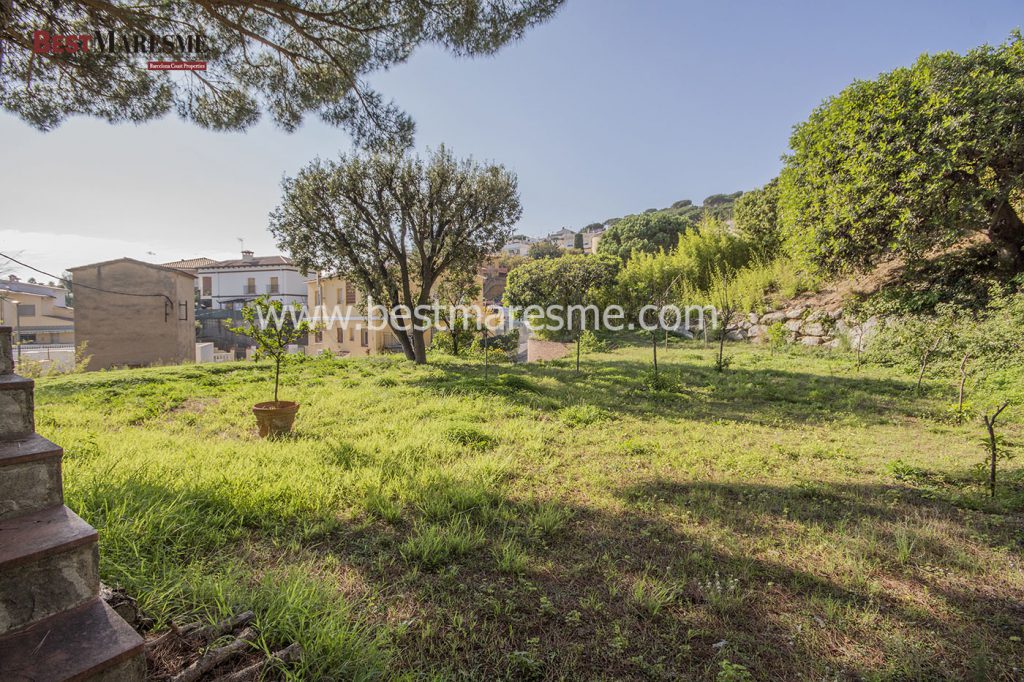 Flat plot of 580 m2 for sale with an exceptional location and situation in the town of Premia de Dalt.
Due to its unbeatable orientation, it enjoys sun throughout all day, and beautiful views, a consolidated residential area approved by the city council with sidewalks, public lighting and water, electricity and gas at the entrance of the plot.
Completely consolidated and with a beautiful and wide façade, with the possibility of building a property of 350 m2 with 3 floors, exposed brick retaining wall built.