From Mongat to Blanes …  thirty municipalities make up the Maresme region, most of them with magnificent beaches.
Summer season begins, and many of us look for beaches to cool off and to enjoy good times with friends and family. Long beaches, good communication, beach bars for when we get hungry, sports facilities …
On Maresme coast region, from Montgat till Tordera – north of Barcelona – we find 52 kilometers of magnificent beaches, a total of 49 beaches of medium and coarse-grained golden sand. Full of options, you can enjoy the sun, beach bars, water sports …
From Best Maresme, a real estate agency located in Cabrils, we propose some beaches of Maresme region so that you can enjoy them yourself !!
CALDES D'ESTRAC
Caldes d'Estrac or Caldetas is a coastal town protected by the Cordillera Litoral, which runs parallel to the coast, and enjoys an enviable climate, with advanced springs and winters and mild summers.
Caldes d'Estrac has several tourist attractions that make it an area visited by people of all during all seasons.
The famous " Promenade of the Englishmen" "El Passeig dels Anglesos" became famous for its thermal baths and the English tourists left  the cold  weathe r of London to spend holidays in this small Catalan Mediterranean village. These wealthy families built beautiful houses, many Modernists or Noucentists, but with an English air, right in front of the sea. Currently many of these houses have been replaced by luxury apartments, but many have been preserved and are really lovely. Why do not we go to the beach and then a promenade contemplating these architectural wonders?
Its golden sand and calm waters becomes an optimal beach for families with children.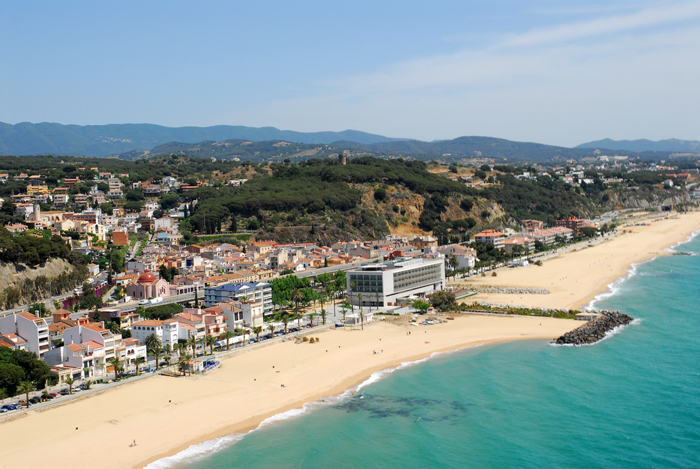 PREMIÀ DE MAR
Premia de Mar, as its name says, is a municipality located on the coast of the Maresme region. With a seafaring past, it has a beach almost one kilometer long with golden sand. Own Port Account with Leisure Area called Marina Port Premià, where you can spend the afternoon with shops, restaurants ..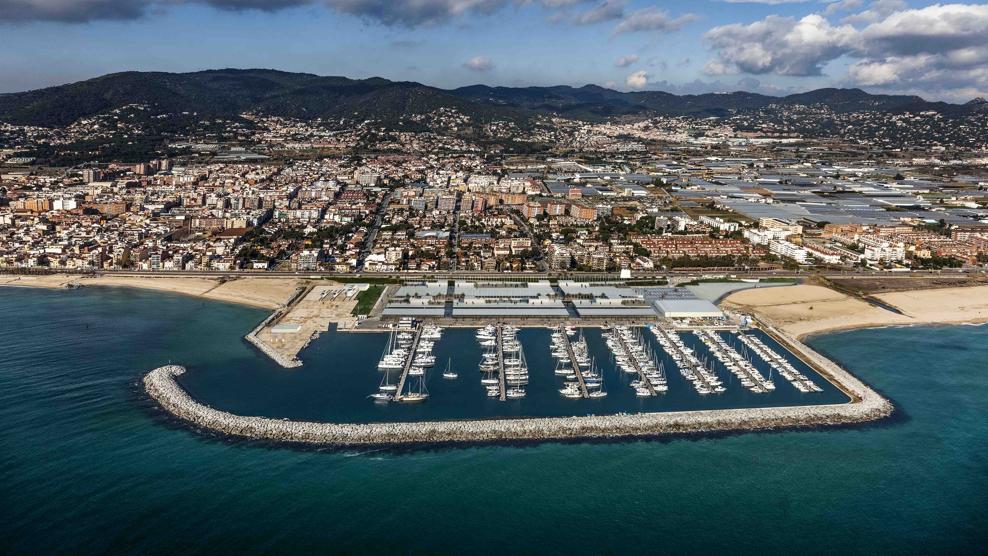 The beach bars in the area offer good music and and a perfect atmosphere at sunset, the moonlight and the sound of ocean waves as a background.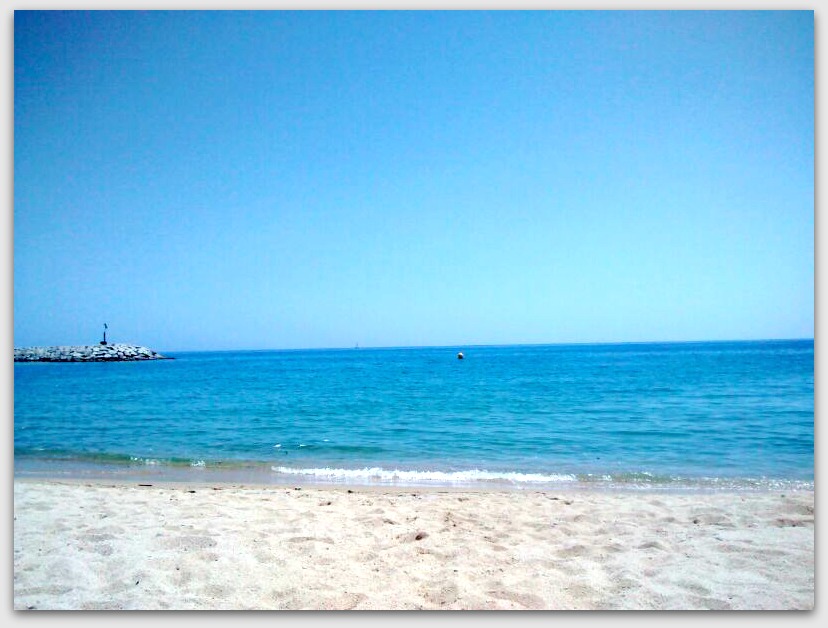 VILASSAR DE MAR
If you are a Surf lover, the Ponent beach, in front of the Mercat de la Flor, in Vilassar de Mar or if you prefer paddle surfing, the Almadrava beach, where you will find board rentals and initiation courses.
Highlight its good access by train (Vilassar de Mar or Cabrera de Mar) or by car since it has parking and a good range of beach bars.
EL MASNOU
In the town there are two beaches: The Masnou Beach and Ocata Beach
Beach of 1,250 meters. Urban beach without promenade, with blue flag granted for the best beaches, mainly golden sand. The sea is usually calm and windy.
It has sports areas, adapted to people with reduced mobility, a nudist area and good beach bars!
The Masnou promenade also has Modernist prints in fantastic houses that are small museums.
The Ocata Beach, long and wide,it  is a good beach located in the urban area and also has different sports areas, a yacht club and a Sailing club: Ocata Vent. It was awarded by the Beach Blue Flag  in 2016.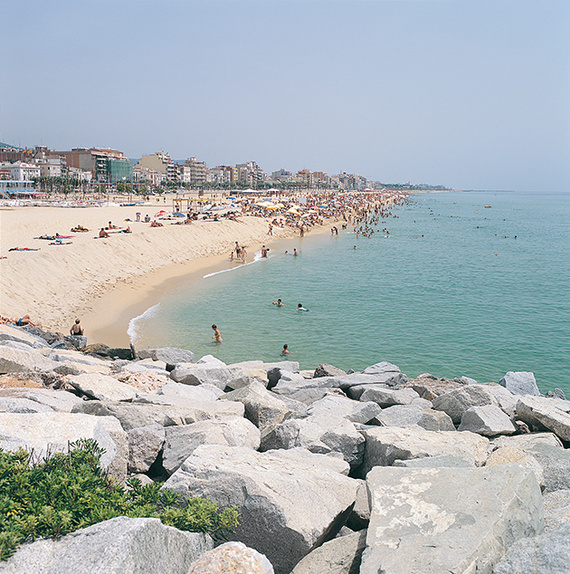 It is easily accessible from the town center. Both beaches are well connected with public transport.
MONTGAT
The three beaches of Montgat, Pla de Montgat, Sant Joan and Les Moreres have two kilometers of sand. They are divided by a rocky promontory called Caleta de Montgat. In them, the sea looks intense blue on sunny days. It has a narrow promenade that crosses garden areas, the Torre de Ca n'Alzina (16th century) and picturesque vintage beach bars. You can practice wakeboarding, wakeskate, paddle surfing and other sports.
Just 17 kilometers north of Barcelona Montgat is the first municipality of the Maresme coming from the south. We can access its beaches by train since it has two stations- Mongat and Mongat nord. Thanks to its proximity to Barcelona we can enjoy, apart from its clear waters, the views of the Fòrum park and the W.
MATARÓ
In the capital of Maresme, Mataró, between the Sant Simó stream and Sant Andreu de Llavaneres, we find a beach known as "la playa del búnker" or "el fortí", since there is a Civil War buffer in one of its extremes. The bunker is a curiosity to take into account apart from the rocky bottom that allows us to discover a large number of fish. These bunkers (we found several along the Maresme coast) were built during the Civil War and used as a point of surveillance and defense against possible enemy bombardments, such as the one that was unleashed on Mataró itself on June 8 and July 22, 1937 .
BETWEEN CANET AND SANT POL …
Playa de les Roques Blanques, a semi-secret beach !!!
Between Canet and Sant Pol, we find a secluded sandy beach with no promenade. With a rustic appearance of just 300 meters, in a privileged and exclusive environment, redecorated with rocks and transparent waters, it allows you to enjoy tranquility any day of the year!
A small piece of beautiful and magical beach that will make us fall in love!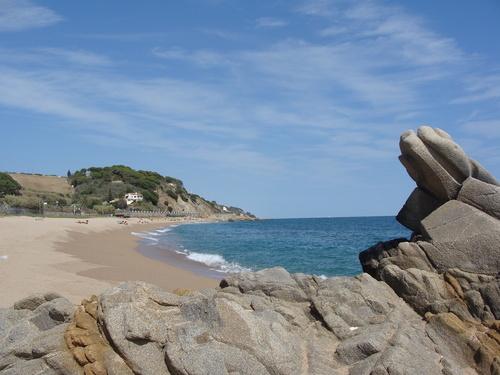 How to get??? on foot from the beach of Canet or by an underground walk that is on the N-II
SANT POL
Sant Pol de Mar, small village with a lot of typical Mediterranean charm, with narrow streets, white houses … there we find the Morer beach among others, with coarse sand. Its beaches, the mayria small and rocky coves, are distinguished from the rest of the Maresme beaches.
Between the Mediterranean sea and cliffs … like on the Costa Brava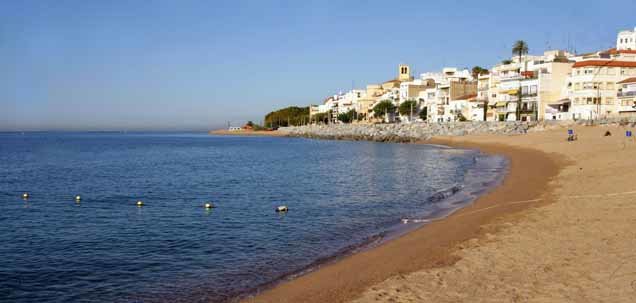 Nearby, there is an old Roman wine center from the 1st century, which can be visited after a short walk.
CALELLA
On Mataró north … capital of the Maresme, we find this beach located to the south of the urban center of Calella, on the coastal front of the Parc Natural del Montnegre i el Corredor.
With this name is known all the coves Rocapins, La Vinyeta, Cala d'en Pere (nudist) and Roca Grossa, located south of the lighthouse of Calella.
Surrounded by pine trees and cliffs, unique note in front of the long beaches of the Maresme.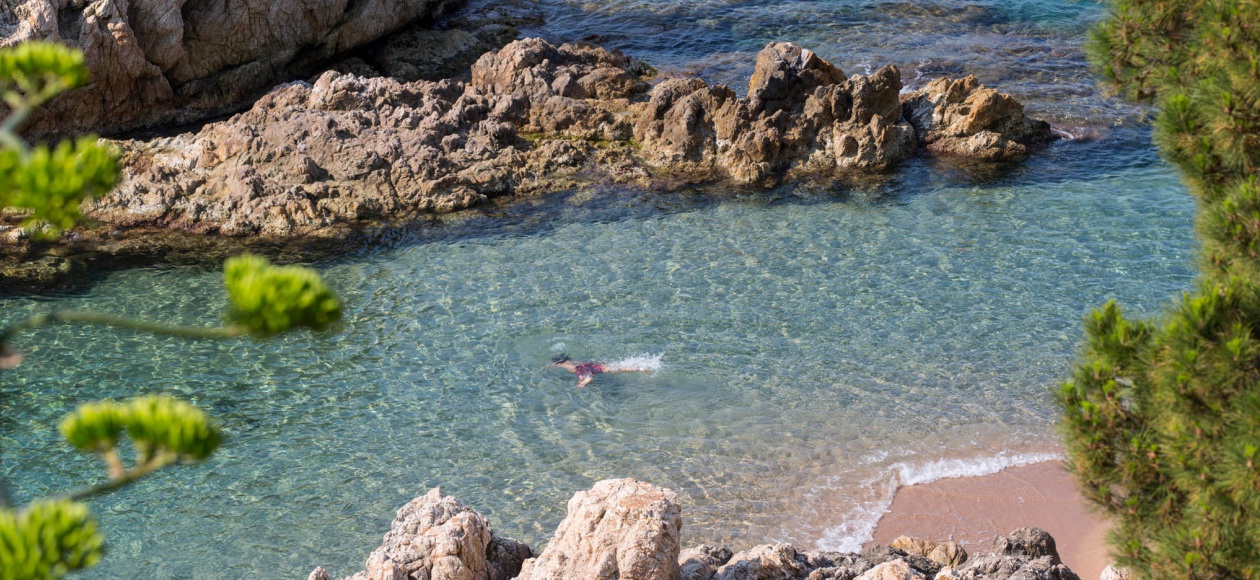 It can be accessed by walking along the level crossing that crosses the N-II road at the height of La Vinyeta cove or by the one that crosses it from the lighthouse, in the Roca Pins cove. The coarse sand and there are rock areas between coves and coves.
And since we are here … we wear the lighthouse symbol for excellence of Calella? From this same you can enjoy the best sunsets and sunsets !! Check the schedule of the "Festival Nits d'estiu a Calella"
LES ROQUES BEACH
Les Roques beach is attached to the Costa de Barcelona destination, certified by Biosphere since 2017.
However, if what you want is a little more movement, on Garbí beach, for example, you can practice a large number of water sports or enjoy the various beach bars that are found there.
TORDERA
To the north of the Maresme region is the Punta de la Tordera beach.
Tordera is a town marked by its river, which is born at the height of the Montseny. This river is of great ecological value and is one of the natural areas with the greatest biodiversity in the region. There, is where we find the last beach to comment.
One kilometer long that has a section where nudism is practiced. Very attractive beach and a great option for those looking for waves to jump with their kitesurfing.
¿Are you looking for a luxury house in Maresme area?
At BestMaresme we have a great offer in the most exclusive areas of the Maresme. We are experts in luxury properties in towns such as Cabrils, Premia de Dalt, Vilassar de Dalt or Llavaneres. Are you looking for a luxury house to buy or rent in the Costa de Barcelona? Visit us or contact us.