Where there is sea there are waves and where there are waves there will always be someone who wants to surf them. If there is something in Maresme region, is sea and for this reason the fans of nautical sports have in it an ideal place to live.
Along its more than 50 kilometers of coastline, the region has magnificent beaches and marinas to practice all kinds of nautical sports.
One of these sports is paddle surf. This sport that is practiced by paddling on a board has become so popular in Maresme that we even have one of the best competitors in the world, Xavier Masdevall. Domestic champion several times, he has been runner-up in the world, a European and European champion in waves on inflatable boards.
Let's see the best places in Maresme where we can learn or practice surf or paddle surf.
El Masnou is the nerve center of surf and paddle surf in the Maresme. Maresme Waves is located in this beautiful seafaring village, the space around which the region's surfing scene revolves. This surf school is located in front of one of the best known peaks in the area with a swell that allows you to easily practice basic surfing techniques. It is a perfect place to do an initiation surf class.
When there are east storms from, the beach where Maresme Waves is located is one of the best beaches, which allows you to practice intermediate level surf classes.
Maresme Waves is a meeting point for all surfers. Here those who come from the water to take a shower, those who have just rented equipment to get into the sea, those who charge themselves with energy in the place before diving, those who enjoy the views and relax in the chill out area or those who simply they stop by to meet friends.
Among other activities, in Maresme Waves they have introductory surfing classes for children and adults all year, they design tailor-made courses for each level and age, they rent Barcelona surfboards, and wetsuits.
They also organize paddle surf lessons in which children from nine years old can participate.
It is also close to Barcelona, 5 minutes from the train station, a strategic point on Maresme coast.
Calle Camil Fabra, 3. 08320, El Masnou (Maresme). Tlf: 93 171 48 70 / +34 722 761 277. E-Mail: info@maresmewaves.com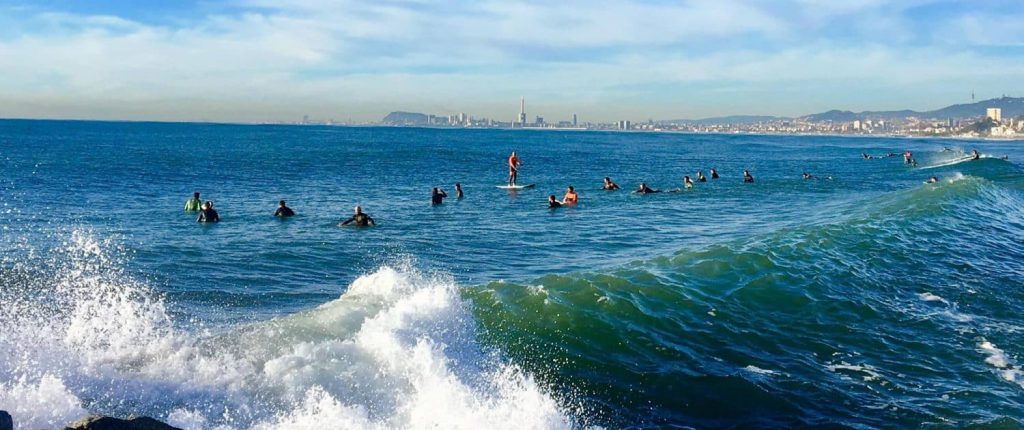 The Catalan Surf School has been 20 years of experience teaching how to surf. It has two fixed locations, one in Castelldefels beach and the other in Barceloneta, as well as a mobile school. This mobile school goes where there are better waves, usually this happens in Montgat.
Caleta de Montgat is one of the most frequented beaches in Maresme coast. Its waves are of quite high quality and on good days tubes come out, holding up to almost two meters in size. Fast waves perfect to enjoy surf and close to Barcelona.
At the Escola Catalana de Surf they organize surf and paddle surf classes for all levels and ages throughout the year. They also program Surf Camp at Easter and in summer, adapted surfing, crossings, SUP yoga classes and even scuba diving baptisms.
Tfno.: 654 028 099. email: info@escolacatalanadesurf.com
At Palomares Beach in Vilassar de Mar is SUP Addict, a center specialized in paddle surfing. Here they help to get started in this fun and complete sport. They also rent the equipment and have a shop where you can buy everything you need for your practice.
They offer private and group classes all year round, guided SUP outings, Sup yoga and Sup pilates.
Paddle surfing is a very complete sport that improves your health and fitness, while you enjoy of the sea, by an ecological and relaxing form, and work a large number of muscle groups. It is an activity to do both alone and in company.
Supaddict. Escola Catalana de Paddle Surf. Playa de Palomares, 08340 Vilassar de Mar (Maresme).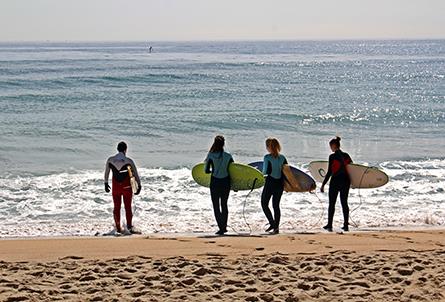 ¿Are you looking for a luxury house in Barcelona area?
At BestMaresme we have a great offer in the most exclusive areas of the Maresme. We are experts in luxury properties in towns such as Cabrils, Premia de Dalt, Vilassar de Dalt or Llavaneres. Are you looking for a luxury house to buy or rent in the Costa de Barcelona? Visit us or contact us.