On January 22 and 23, 2021, the "Tiana Negra" festival will be held, which reaches its ninth edition. An edition that will maintain the essence of the festival, despite of the pandemic. A festival that, together with Vilassar de Noir, makes Maresme a reference for the black literature genre.
Participants in this edition of "Tiana Negra" will have a limited capacity and must make a registration. At the same time, the activities will be broadcast in "streaming" to reach the maximum audience possible.
Anna Maria Villalonga will be the director once again. Throughout two days that the contest will last, the participation of the best authors and publishers of the Catalan crime novel is scheduled.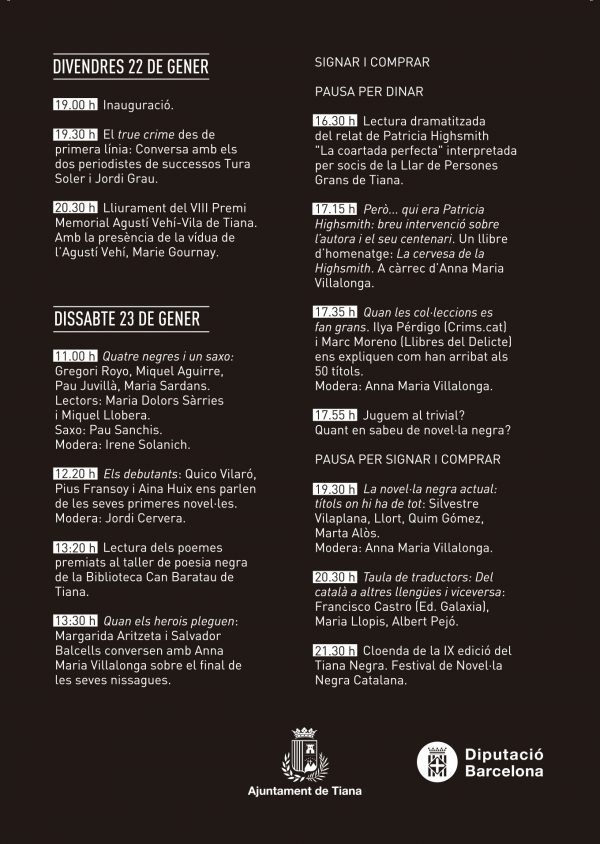 "Tiana Negra" will be inaugurated on Friday, January 22 at 7:00 p.m. and then the journalists of events Tura Soler and Jordi Grau will talk about "The' true crime 'from the front line." After this first talk, the VIII Agustí Vehí-Vila de Tiana Memorial Prize will be awarded.
Highlights the tribute to the writer Patricia Highsmith, who commemorates the centenary of her birth (she was born on January 21, 1921 in Fort Worth, Texas, United States), which includes the dramatized reading of her story "La Coartada perfecta "by members of the Llar de Persones Grans de Tiana (Saturday, 23 at 16:30). Then the festival director will make a speech "Però … who was Patricia Highsmith" and will present the tribute book "La Cervesa de la Highsmith" (5:15 pm).

A fortnight of activities that will have the presence of a score of Catalan authors.
In this edition, in addition, the game is released: Trivial Negre. As every year, the involvement of the Tiana society will be essential for the success of the festival. Throughout the month of January there will be black novel readings in schools and at the Tiana Institute.
¿Are you looking for a luxury house in Barcelona area?
At BestMaresme we have a great offer in the most exclusive areas of the Maresme. We are experts in luxury properties in towns such as Cabrils, Premia de Dalt, Vilassar de Dalt or Llavaneres. Are you looking for a luxury house to buy or rent in the Costa de Barcelona? Visit us or contact us.