Cabrils is a surprise. It is full of contrasts and hidden treasures.
It is a combination of modernity and tradition. It is a village with a high quality of life.
The main economic engine of Cabrils is the restoration, so much so that it is classified as one of the main gastronomic villages in Catalonia and also has a significant number of high-quality residential areas.
Apart from being a gastronomic Villa, in Cabrils we find other points of interest such as The Arboretum of Catalonia, Routes to discover new Sundials, healthy itineraries for all ages, an important architectural and cultural heritage and charming accommodations.
Few people know that Cabrils is the town with the most sundials in the entire Spanish State.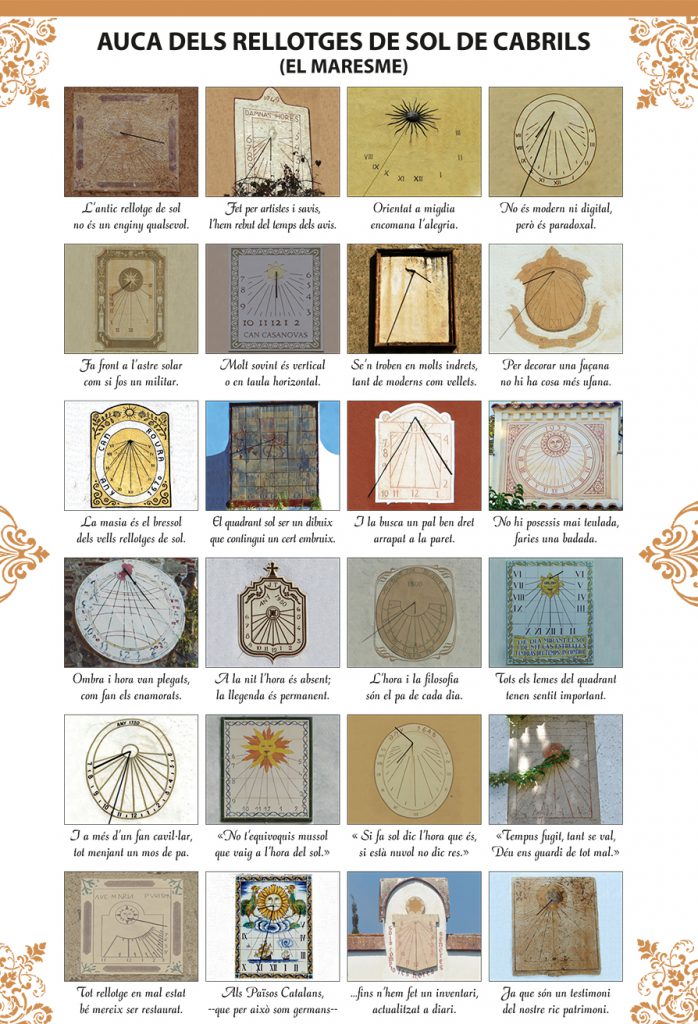 These sundials are of many kinds, vertical, horizontal, cylindrical … etc … They have existed since the 18th and 19th centuries, such as the Can Carbonell or Can Grau, and they even say that the legend and the drawings of the sundial the entrance of Can Rin from Salvador Dalí, a friend of the Serraclara family. In fact, the town also treasures a private collection unmatched in the state level that can be visited for free in Cal Majó.
Sundials in Cabrils
Highlight the sundial located on the façade of the Masía de Can Serraclara (current Can Rin) is a ceramic work by the surrealist artist Salvador Dalí, who frequented this town of Cabrils in summer.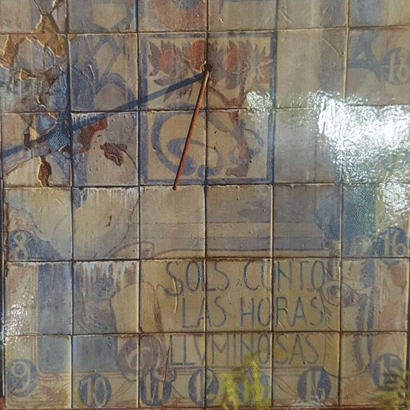 In Cabrils there are those who explain that they remember seeing a young Salvador Dalí around the town. It is known that as a child he came to spend the summer holidays in the Can Serraclara farmhouse. Both families were friends and contacts were never lost with the artist. The Serraclaras were a lineage of the Barcelona bourgeoisie who owned an important law firm and had a clear political tradition.
In the center of the image there is an orange tree with a blue bow tied to the trunk. «If we look closely at the outline of the loop we can follow its initials S and D», «The other Dalí sundial that exists is in Paris and in Cabrils we would have the second one»
The iconography reflects the life in the town. On the right hand there is a grand duke standing on a branch, and on the left a white chicken with a red crest and chins. In the surroundings there is floral decoration that, due to its leaves, could be carnations. The hours go from 6 a.m. to 6 p.m., with Arabic numerals, and in the lower legend you can read «Sols conto las horas llvminosas».
At BestMaresme we have a great offer in the most exclusive areas of the Maresme. We are experts in luxury properties in towns such as Cabrils, Premia de Dalt, Vilassar de Dalt or Llavaneres. Are you looking for a luxury house to buy or rent in the Costa de Barcelona? Visit us or contact us.