Welcome to Maresme a ideal region to live !
Many families that moves to live to Maresme, works in Barcelona but still wants to live or spend their holidays in towns along the coast.
In all those towns , coexist old and modernist houses, luxury properties, family houses with garden in residentials complex. These houses are the most sought after.
Currently there are many famous personalities, families, etc… who have moved to live and enjoy this wonderful region near Barcelona with complete calm and privacy. They search to be protected from prying eyes.
Barcelona is an excellent city to life, it has been taken the 4th place among the most visited cities in Europe, and 12 among the liveliest cities in the world. However, its surroundings also attract people to live.
The Maresme is a region of the province of Barcelona, ​​which includes towns such as Mataró, Arenys de Mar, Calella, El Masnou, Vilassar de Mar, Cabrils… These region is surrounded by mountains as Litoral mountain range (Sierra de Sant Mateu, Sierra del Corredor and Montnegre Massif) and all long, sandy beaches.
Thanks to its microclimate, it is always nice weather! The summers and the winters are mild by the breezes of the sea (the temperatures are moderate standing around 15º of average annual in the coast).
You can enjoy with the gastronomy, such as peas from Llavaneres, strawberries from St Pol, visits to wine cellars …, fairs such as the Càntir de Argentona and parties such as the Santas de Mataró or the iberos de Cabrera among others ones.
This region first dazzled the Romans who had settled there their villas/ houses, after that the Indians returning from America established also, and now executives, families, celebrities etc … who works in Barcelona and wants to live without haste and the noise of the capital.
The 49 beaches spread across the 16 coastal municipalities, its natural and scenic environment, historical routes are some of the reasons why they make MARESME a more than appreciated destination to live.
It's an strategic location, with good communications to Barcelona, whether by public or private transport, by road or rail…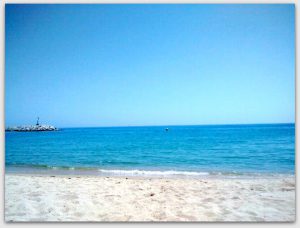 And BARCELONA it is just only 20 minutes away!